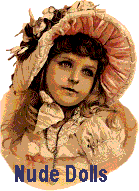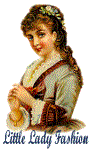 Wig Choices
accessories fit
Daisyette & Bleuette
Email me with the order for clothes, shoes and socks. I will figure exact shipping charges.
Bleuette Dolls ~ Clothes & Patterns
Click here to see dolls that are made up and ready to go immediately!
Use Pay Pal shopping cart or I can send you a Pay Pal invoice by email. This way you can add clothes and patterns to your order and pay only the exact amount of shipping.
You can also call with your Visa or Master card information.
Click on the Doll Photos to see a larger view.
Prices on Cart are for doll with wig. Email me with questions, orders and choices of wigs, eyes and clothes, or doll without hair. Heads and bodies are interchangeable.
You will not get the exact doll in the photo.
Email and ask for a photo of what is available now.
Or order exactly what you want. Jackie@jackiesdolls.com phone 510-582-9460 10:00 to 4:00 pacific time
Bleuette

6/0 mold by Mystic Molds

11" doll - wood body

$165.00 (145.00 no wig)

Bleuette

"Bellette" from Collectible Doll Company

11 1/2" doll - wood body

$165.00 (145.00 no wig)

Bleuette

Premiere from Collectible Doll Company

10 5/8" doll - wood body

$165.00 (145.00 no wig)

Bleuette

SFBJ 251

"Lynette" from Collectible Doll Company

11 1/2" doll - wood body

$165.00 (145.00 no wig)

Bleuette

Unis France 301

11 1/2" Doll - wood body

Mold by Barbi Kantor-Goldenberg

165.00 (145.00 no wig)

Bleuette

"Cherie" from Collectible Doll Company

10 5/8" doll - wood body

$165.00 (145.00 no wig)

Bleuette

Seeley Gold - SFBJ 60

10 5/8" doll - wood body

$165.00 (145.00 no wig)

Bleuette

Seeley Silver - SFBJ 301

10 5/8" doll

wood body

$165.00 (145.00 no wig)

Bleuette

Seeley Premiere

10 1/4" doll

wood body

$165.00 (145.00 no wig)

Daisyette K

11 1/2" Kestner Daisy

reduced to Bleuette size

wood body

$165.00 (145.00 no wig)

Daisyette H

11 1/2" Handwerck Daisy

reduced to Bleuette size

wood body

$165.00 (145.00 no wig)
Bleuette Supplies
Choices of Wigs and Eye Color
Patterns and Accessories
Click to see large photo

Bleuette Pattern

By Jackie Chimpky

$ 10.00

made to fit the wood body

Includes pantaloons, slip, base dress, shoes and instructions for hat

Wood Body for Bleuette This is the body used

blue - brown - green

gray - lavender - hazel

glass eye color choices

Click to see large photo

Daisyette Pattern

By Jackie Chimpky

Two Dresses and Includes Underwear

made to fit the wood body

$19.95

Click to see large photo

Bleuette Pattern

By Jackie Chimpky

$ 10.00

made to fit the wood body

Includes panties, slip, dress, and cape

Click to see large photo

Bleuette Pattern

By Jackie Chimpky

Three Outfits

Includes Underwear

made to fit the paper mache body - bring in seams a bit to fit the wood body.

$24.95

Click to see large photo

Letti Pattern

By Jackie Chimpky

Three Outfits

Includes Underwear

$19.95
Blunt Cut

Human Hair Wig

Comes in Blonde

Braids

Human Hair Wig

Comes in auburn and Blonde

Bob Style

Human Hair Wig Comes in Blonde and Light Brown

Email to order supplies to go with your doll.

Jackie@jackiesdolls.com

Mohair wigs also available. They change all the time so email for what is available

Chemise

$13.00

Silk

Socks

$6.00

Leather Shoes with ankle strap

$16.00

Red Dress

Click to see larger view

$22.50

White and Blue Dress

Click to see larger view

$22.50

Dress & Jackie

Click to see larger view

$17.88

Leather tie shoes in white, black and red

14.95